Tenergy 1.2V 3000mAh Ni-MH Sub C Rechargeable Flat Top Battery Item # 10516
Product Description
DESCRIPTION: 1.2V 3.0Ah Ni-MH Sub C Rechargeable Flat Top Battery
SKU: TEN-10516-30-1
U.P.C.: 844949027502

TECHNICAL SPECIFICATIONS
CHEMISTRY: NIMH
CAPACITY: 3000mAh
VOLTAGE: 1.2V
DIMENSIONS: Height 43 mm, Diameter 23 mm
WEIGHT: 51g per cell
Single Cell Resistance: <=5 Mili Ohm
Standard Charge: 15 hours @ 300 mA
Rapid Charge: 1.5 hours @ 3000 mA
Features and Benefits:
High quality Sub C size, 3000 mAh Nickel metal hydride (Ni-MH) battery.

Up to 30 Amps high drain current rate, ideal for making various battery packs for heavy duty applications such as remote control (RC) toys, electrical guns, power tools and backups..

Solderable taps enable cost effective and easy way to make your own power pack of different voltage and shape.

Each cell is individually checked before shipping and all the batteries are matched.

Ultra high capacity, 40% more running time than Ni-Cd Sc battery.

Very long cycle life and Rapid battery charge up.

Battery tested based on International Electronic Commission (IEC) standard to ensure capacity and quality.
PICTURED BELOW ARE SUB-C CELLS IN BOTH STANDARD AND 4/5 COMPACT.
THIS LISTING IS FOR STANDARD SUB-C CELLS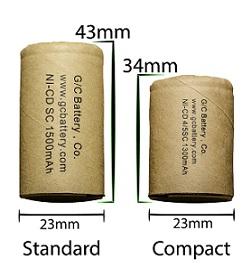 Product Reviews
Write Review
This product hasn't received any reviews yet. Be the first to review this product!
Find Similar Products by Category
Customers also viewed